There have been many incidents around the world with many security incidents. Some of the biggest cyberattacks are:
The second-largest software vendor in Germany and the seventh-largest in Europe, Software AG has been reportedly hit by a ransomware attack in October 2020.
French IT service giant Sopra Steria was attacked by ransomware on the evening of 20th October, as confirmed by the company.
In September 2020, hackers gained access to Telegram messenger and email data of some big names in the cryptocurrency business.
The Chicago-based leading global legal firm, Seyfarth Shaw LLP became a victim of an "aggressive malware" attack. This attack was later confirmed by the firm as a ransomware attack. The cyber-attack reportedly took place on October 10, 2020, and downed the firm's email system completely, as per a statement published by the company.
The world's largest cruise line operator, Carnival Corporation reported a data breach due to a ransomware attack that took place in August 2020.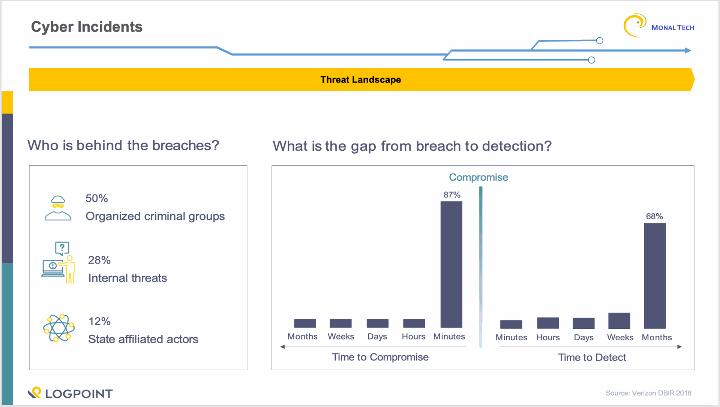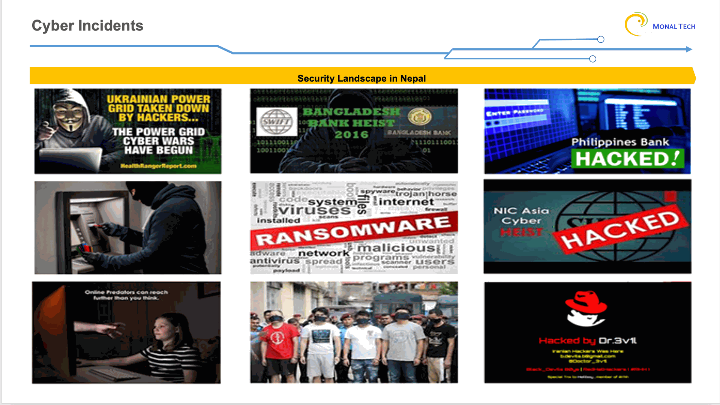 In 2016, Metropolitan Police Crime Division arrested Bikash Paudel of Balaju in Nagarjun Municipality on the charge of hacking over 200 official websites of government and non-governmental organizations. Hacked the websites of the National Tuberculosis Centre, Nepal Telecom, Dairy Development Corporation, Office of Cottage and Small Industries, and various educational institutions, among others, besides stealing details of the website users.
Over 58 government websites, including those of the Department of Passports and Nepal Law Commission, were hacked in the past one year in 2017
A good number of e-banking and payment service providers were found vulnerable to clickjacking, Poodle, and security flaws.
2017 – An online newspaper has become a victim of Wanna-cry in Nepal.
There was a shift banking attack in NIC bank. The overall amount of money stolen from the bank was around Rs 460 million, Rs 400 million has been retrieved.
In August 2019, the hackers were arrested for stealing millions of rupees from the bank accounts of subscribers by forging their ATM cards. NEPS – ATM service provider for many banks was under cyber-attack. Issued information that it is going to replace all its hardware.
·       In March 2020, on Saturday night, Foodmandu, an e-commerce firm distributing on-demand food distribution accommodations throughout the Kathmandu region, witnessed a data breach from their system. The hackers have leaked the database consisting of more than 50,000 Utilizer denominations, personal detail, latitude, longitude, current address, emails, and phone number.
· In April 2020, Vianet's Data Breach Exposes More Than 1.7 Lakhs Customers Personal Data
· In July, 15 banks in Nepal were threatened for hacking the banking system. The group sent an email illustrating that the system has been compromised. The email created lots of panic in the banking industries, but later nothing happened.
·       In December, an email has been sent threatening to compromise various systems of the bank. Threats are always better to be analyzed. Not good to be ignored. However, the stress it is creating for the industry and the professional also cannot be ignored. 
Thank You
Source: https://monaltech.com/blog/cyber-security-1/cyber-security-in-nepal-4#:~:text=Nepal%20has%20moved%20up%20to,100%20points%20among%20182%20countries.