Certain threat actors are responsible for the more complex cyber-attack and campaigns.  They mostly attack the confidentially, availability and integrity of the organizations. Some of the most active threat actors that target the finical sectors are
· Lazarus group: Lazarus group have been active from 2009. This group has been linked with the most notorious hacks, including the 2014 attack against the Sony Picture Entertainment, 2016 Bangladesh bank heist, 2017 ransomware. Lazarus has continued to target financial institutions with the goal of carrying out SWIFT heists. s. In recent years, targets included financial institutions in the US, Mexico, Brazil, Chile, Venezuela, Colombia, Uruguay, UK, Denmark, Poland, Turkey, China, Taiwan, and Hong Kong.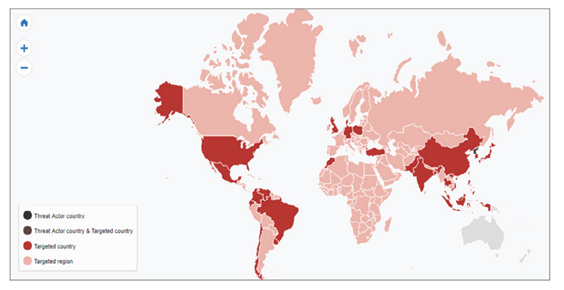 · Mustang Panda: Mustang Panda is a China-based cyber espionage threat actor that was first observed in 2017 but may have been conducting operations since at least 2014. Mustang Panda has targeted government entities, non-profits, religious, and other non-governmental organizations in the U.S., Germany, Mongolia, Myanmar, Pakistan, and Vietnam, among others.
· SideWinder: Sidewinder is a suspected Indian threat actor group that has been active since at least 2012. They have been observed targeting government, military, and business entities throughout Asia, primarily focusing on Pakistan, China, Nepal, and Afghanistan.
·       APT37: APT37 is a North Korean state-sponsored cyber espionage group that has been active since at least 2012. The group has targeted victims primarily in South Korea, but also in Japan, Vietnam, Russia, Nepal, China, India, Romania, Kuwait, and other parts of the Middle East. APT37 has also been linked to the following campaigns between 2016-2018: Operation Daybreak, Operation Erebus, Golden Time, Evil New Year, Are you Happy?, FreeMilk, North Korean Human Rights, and Evil New Year 2018. Different Neighboring Countries have published news considering Nepal Cyber Security Situation.
Thank You
Source: https://monaltech.com/blog/cyber-security-1/cyber-security-in-nepal-4#:~:text=Nepal%20has%20moved%20up%20to,100%20points%20among%20182%20countries.